Thank you for contacting Verified Roofing LLC, a representative will contact you shortly.
BEST WORKMANSHIP GUARANTEES IN THE BUSINESS
Pick a Verified Pro . . . Pick Verified Roofing
Verified Roofing is a certified, insured and experienced roofing company serving Greater Dallas Fort Worth areas. Our team is skilled in the repair and replacement of all types of roofs. We are both a GAF Master Elite Company and a member of the Roofing Contractors Association of Texas (RCAT) which is a statewide trade association of roofing and waterproofing contractors. Texas provides no provision for licensing roofers. GAF certification assures our customers that they are trusting a company that will provide quality installation and warrantied products and guaranteed workmanship. Due to stringent GAF standards, less than 3% of all roofing contractors nationwide have qualified for GAF Master Elite Certification.
We will provide a free inspection, consultation, and a detailed estimate of our custom solution and provide continued support throughout this process.
The appearance of your home during and after the roof is installed is important to us. Your landscaping will be protected during the job and our post-job cleanup is as impressive as our roofs.
Why
Choose Us
Verified Roofing LLC and their team treat every home as if it were their own, by ensuring complete customer satisfaction on each and every job.
Honesty & Integrity
---
For us, honesty is the only policy and we strive to complete all projects with integrity, not just with our clients, but also our suppliers, contractors, and insurance companies.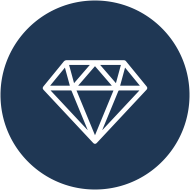 Quality Products
---
We are GAF Master Elite , a certification that must be renewed every year, and we only use the best products in the roofing business.
Our Mission
---
Our passion for what we do drives us to work hard and provide unrivaled service to our friends and neighbors, throughout Texas!
Our Services
Regardless if you need the roof over your home replaced or repaired, Verified Roofing LLC has you covered.
At Verified Roofing LLC, you can rest assured that we will be with you from the start of your roofing project to the end. We're certified and insured to install residential roofing systems for every type of home in Texas. We offer you the best warranties for the roof of your choice, along with our 100% satisfaction guarantee.
Many Colors and Styles
We offer a wide array of residential roofing material and carry many of the brands you know and trust
---
Quick and Efficient
Quick efficient home improvement services for residents and property owners